Summer is fast approaching which means only one thing…the trusty convertible strapless bra comes back into use! With tank, halter & strapless tops, all in the fashion limelight you need to be wearing the right bra to pull it all off! But how do you know which bra will be great under all 3? We have our latest brayola guide for all sizes. If you are small, medium or large chested… they've been tried and tested, and here's the best of the best for our girls!
A-C cup
Aerie Mia 
If you are anything from an A-C cup and looking for a convertible bra that will take you through the summer, we love the Aerie Mia range. What is great about this bra is that it has removable air pads which means, you have control over how much oomph you want! Plus you have 8 different ways to it, AND Mia comes in the most beautiful summer colours, you will want to show them all off!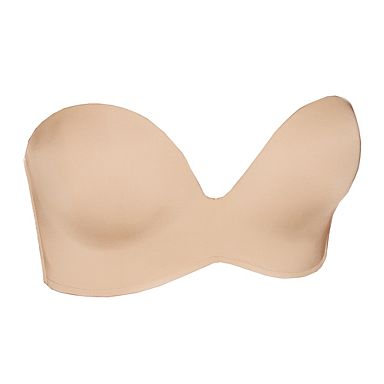 The wonderbra Ultimate Strapless bra
We couldn't do a post about convertible/strapless bras without mentioning the Wonderbra Ultimate Strapless Bra. This bra has been around since 2009, and has been one of the most popular strapless bras for A-C cups, perfect for any strapless summer dresses or tops. This bra comes with smooth moulded cups with a unique hand tech support. With every good strapless bra, this one comes with a great silicone band that sticks to your body and keeps you firmly in place. If that wasn't enough the centre gors is very low, so you can dare to take the plunge 🙂
Medium Chested
Calvin Klein Seductive Comfort Customized Lift Strapless Bra
If you are any bigger than a C cup you will understand that finding a strapless or convertible bra can be quite a tricky find. Not only do you need the bra to stay up, but also to support you in a time of need. If that is what you're looking for, brayola would recommend the Calvin Klein Seductive Strapless Bra. This bra is a number one bestseller, and again offers versatility so can be worn under all your outfits! The bra is made from ultra soft-microfiber and lace, giving it a really elegant look. This bra also has contour padding in the cups, adding support and shape to the bust! We've had many women tell us how amazing this bra is…in their words not ours… "life changing"
Large chested E+

Fantasie Smoothing Strapless Bra
Hands down this is the highest rated, best of the best, strapless bra out there for any woman with size D-G breasts. This bra has been put through the tests with women jumping, running and not feeling like they are going to lose their bra (or dress, for that fact) or get a black eye! It is worth mentioning that most of the Fantasie range (of strapless/convertible bras) are excellent. The cups are lined to add shape and support, (so no padding in this bra). Amazing stay put silicone edge lining on the back wings, giving you extra support. An important note about this bra, is that it is advised to order a size up!
Also, not to forget the other strapless bras in the Fantasie range, such as The Ava Underwire Molded Strapless bra is also a winner when it comes to large busted ladies.
Panache Porcelain Molded Strapless Bra
The most common thing we hear about this bra is "wow it actually comes in my size!" The Pannache bra has slightly molded, seamless cups that will keep you supported for hours! The cups have a slight padding, for modesty but don't worry ladies the padding won't add to your size. With a slight plunge line, unlike many strapless bras, means you can dare to wear this with a lower cut tops! The porcelain bra also comes with detachable straps so you can use this bra as a halterneck, crisscross or just a regular bra 🙂
If your favorite bra wasn't mentioned, we want to know which one it is. Why not create your brayola drawer, and check out what other fabulous ladies, like you have in their drawers!
Remember you can win one of the gorgeous 7 spring bras in our Pin it to win competition.
Get pinning 🙂
Lots of bra love,
the brayola team
xoxo